Although flying your DJI Phantom is a lot of fun, flying
with
your drone can sometimes be a pain. Here are five hassles of travelling with your UAV on an airplane:
---
1. TSA Scanning
When going through the TSA checkpoint, your quadcopter might cause a security incident.
The weird shape, batteries, and wiring might raise a few eyebrows when you're going through security. Imagine a TSA Officer's face when your luggage case goes through the X-Ray scanner!

Instead of giving TSA the impression that you're trying to smuggle all these batteries and wirings on a flight, a specifically designed case to organize your drone and all of its accessories can help you more easily explain that you're a drone enthusiast.
2. Explosions!
Your lithium batteries could potentially explode and cause a fire on the plane.
If improperly packed, your expensive Phantom 3 could go up in flames! Lithium polymer batteries should NEVER be placed in a checked bag.

Always keep your batteries with you in your carry on. Changing temperatures and air pressure in cargo holds can cause LiPo batteries to catch on fire.

Did you know that LiPo batteries are considered Hazmat, and storing these batteries in your checked luggage is actually illegal? The only legal way to carry these batteries is bringing them in your carry-on luggage.

Make sure to disassemble your battery from your drone, drain them, and pack them in a LiPo safe bag before your flight.
A quick story for you- A flight onboard Fiji Airways was about to leave Melbourne when the plane's captain noticed "white heavy smoke" coming out of the plane's cargo hold. An investigation by Australian firefighters, police, and transport security revealed that a passenger's carry case containing lithium-ion polymer batteries had caught on fire. Needless to say, transporting LiPo batteries can be a dangerous experience if not handled correctly.
3. Extra Baggage Fees!
Your DJI Phantom drone case doesn't fit in the overhead compartment, so you have to pay extra money to check it.
Nothing is worse than boarding a plane with your drone only to find your case does not fit in the overhead compartment. What's the point of purchasing a gigantic case for your drone with ten compartments for your batteries, if you can't even store your batteries when you check-in your case?

Purchasing an oversized case for UAV is not just a one-time cost if you continually have to pay an extra airline fee to check your case!

Carry-on restrictions vary by airline, so make sure to check with your airline before your next flight.
4. Damage = $$
Every owner's worst nightmare is opening their luggage to find their drone in pieces. Ever watch from the window as airline personnel toss around luggage?
To avoid unnecessary panic attacks, purchase a quality hard carrying case to protect your investment. A durable and waterproof hard travel case can protect your quadcopter from all types of unforeseen dangers.

A professionally made foam insert will keep your drone safely tucked away, allowing you to relax and enjoy your travels.
5. Rough Handling
You open your case, and everything is out of its place.
If you decide to check your case, a TSA agent will be rifling through your case's contents. Having a carry-on travel case for your drone allows you to supervise as a TSA agent handle your equipment while going through security.

Explaining the contents of your quadcopter case in person can reduce confusion or rough handling. Cooperating with TSA and being respectful is the key to a smooth experience in getting through security.

Taking your case with you on board as carry-on can help alleviate your fears of your drone being mishandled, or worse, becoming lost baggage.
Have you had troubles travelling with your Phantom quadcopter? Tell us about your experience in the comments below! When researching cases make sure that it meets airline carry-on regulations.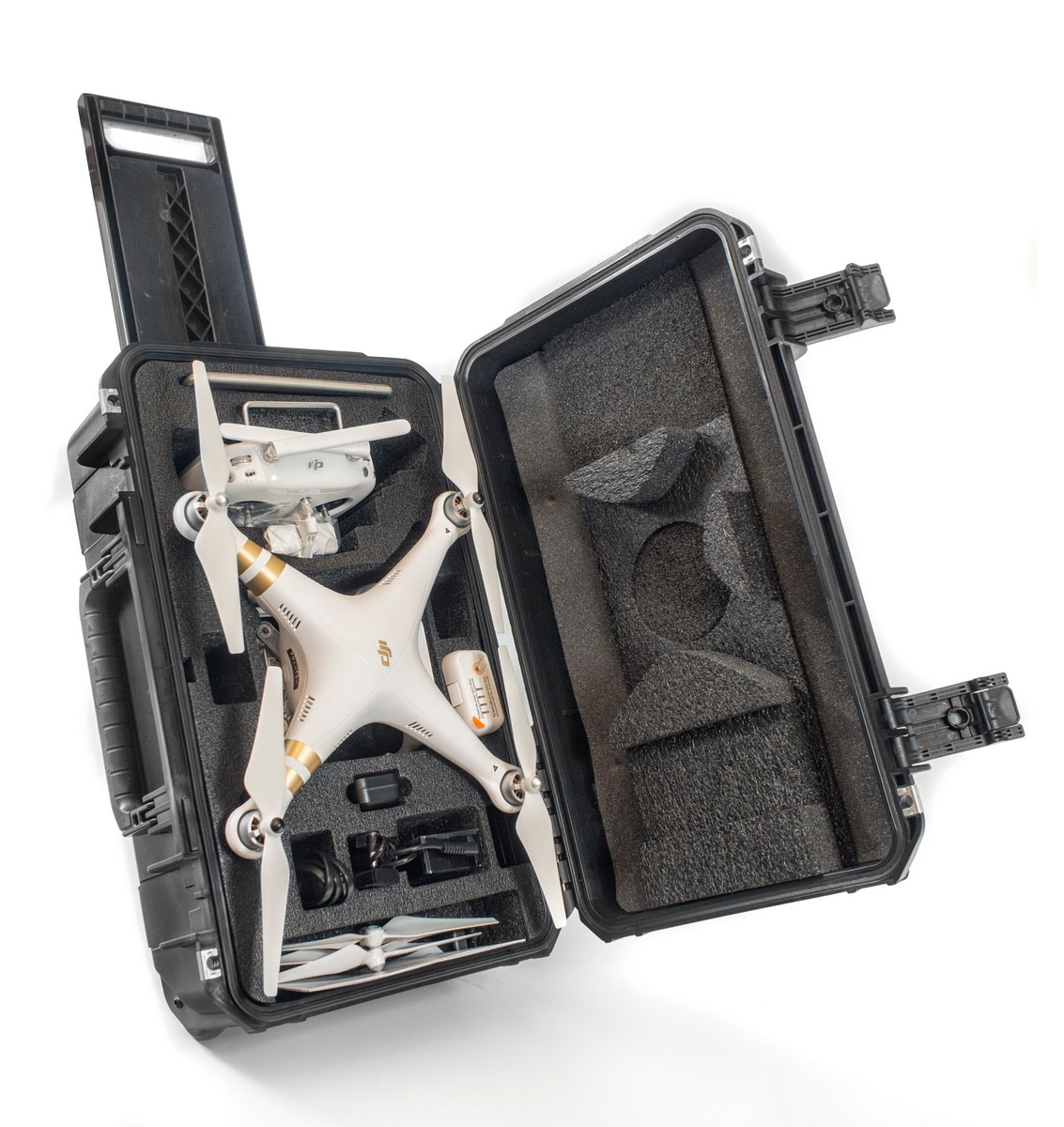 Check out the all-new CasePro DJI Phantom 3 Carry-On Case. This case meets all airline carry-on regulations so it's the perfect solution for all of your travelling hardships. The ultimate travel companion for every Phantom user, your DJI Phantom 3 and accessories are cradled in custom cut foam high density foam for added protection. The case itself is impact and drop resistant, allowing you to have peace of mind during your flight. It's perfect for your trip to the park or your excursion around the world.