The world of drones, like all technology, is always evolving fast. In fact, the new DJI Phantom 4 was just released last month! Don't have one yet? Check them out here.
For those who already have the Phantom 4, it is probably fast becoming one of your most favorite possessions. But for all the smart technology inside a Phantom 4, it still cannot protect itself from damage due to improper transport. Whether you're flying to a remote island or simply hiking with your drone, it is imperative that you protect the investment you made on the Phantom 4 with another investment: a sure-fire case.

CasePro is evolving right along with the latest drone technology. Today, we present two brand new products we designed specifically for your DJI Phantom 4:
The CasePro DJI Phantom 4 Drone Carry-On Hard Case AND the CasePro DJI Phantom
The CasePro DJI Phantom 4 Drone Carry-On Hard CaseThe CasePro DJI Phantom 4 Drone Carry-On Hard Case is impact and drop resistant. In fact, the exterior is an Injection Molded Mil-Std (military standard) Waterproof SKB Case made of ultra high-strength polypropylene copolymer resin. In other words, it's super durable, water and dust tight, and even submersible! Inside, your DJI Phantom 4 and accessories will be cradled in custom cut, high-density foam for the utmost protection. The CasePro DJI Phantom 4 Drone Carry-On Hard Case was specially designed to be within ATA carry-on size regulations, so you won't have any problems navigating through airports and storing it in overhead compartments on planes. Not only will this carry-on case guard your drone and other gear, it is also super lightweight and portable.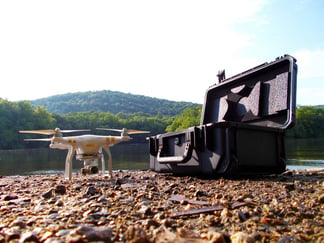 The CasePro DJI Phantom 4 Drone Carry-On Hard Case has a pull out handle, recessed wheels, and was designed to carry and protect your DJI Phantom 4 Quadcopter and multiple accessories including:
Spare props

Phantom 4 and radio transmitter

iPad Mini or 7" tablet

Spare batteries

Chargers

Cables
The CasePro DJI Phantom 4 Drone BackpackAre you tired of lugging a heavy, hard drone case on your scenic hikes? Wheels don't do much good on off-road terrain, and lighter, softer backpacks often don't protect your drone and accessories very well under rough conditions. Don't sacrifice durability and strength for lightweight material! The Casepro DJI Phantom 4 Drone Backpack is made of denier nylon, giving you the portability and compactness of a lightweight backpack and the maximum protection of a hard case. The backpack also comes with rubber stoppers on its lid to prevent the threads in your motors from damaging the backpack. No more loose, little caps that you have to manually attach to your motors and that you could very easily lose!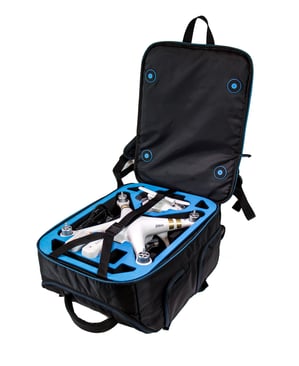 The CasePro DJI Phantom 4 Backpack's high-density, professionally crafted foam cutouts and pockets create a safe place to transport your DJI Phantom 4 drone and accessories, including, but not limited to:
Up to 3 batteries

A transmitter

Props

Prop guards

A charger

Cables

Tablet
This backpack also features extra padding on the shoulder straps and back paneling offer the utmost comfort and convenience on even the most demanding hiking trips.Don't risk your brand new Phantom 4 in just any case; make sure you protect it in a case created with as much thoughtful, technological innovation as the drone itself. Whether you're going on a plane or on a hike CasePro has you covered.
Click the pictures below to check out CasePro's DJI Phantom 4 Gear!Drone Carry-On Hard Case Drone Backpack