We all have that one box in our house. You know, the one with everything but the kitchen sink in it. The one we throw important things into, only to lose them later because of how disorganized that box is. Well, imagine presenting your customers with your wonderful product, only to hear that they have lost some of your components because they didn't have a proper place to store them. This would certainly be inconvenient for your customers, but the fact that you were not able to provide proper storage may also reflect badly on your company. Well, today we, at Cases by Source, are going to tell you how we helped CardioChek solve this very problem and how you can avoid this pitfall as well.
Their Challenge
CardioChek offers all-inclusive systems for at-home cholesterol testing, and they wanted to house entire systems in one convenient place.

CardioChek came to us using cardboard boxes and separating different components with foam.

Box wore out easily

Box was not reusable

Foam didn't organize the different parts of their systems in a user-friendly way, so patients kept losing components

Case needs to be completely wipeable and easy-to-clean so customers can keep components clean at home

Enhance brand
Our Solution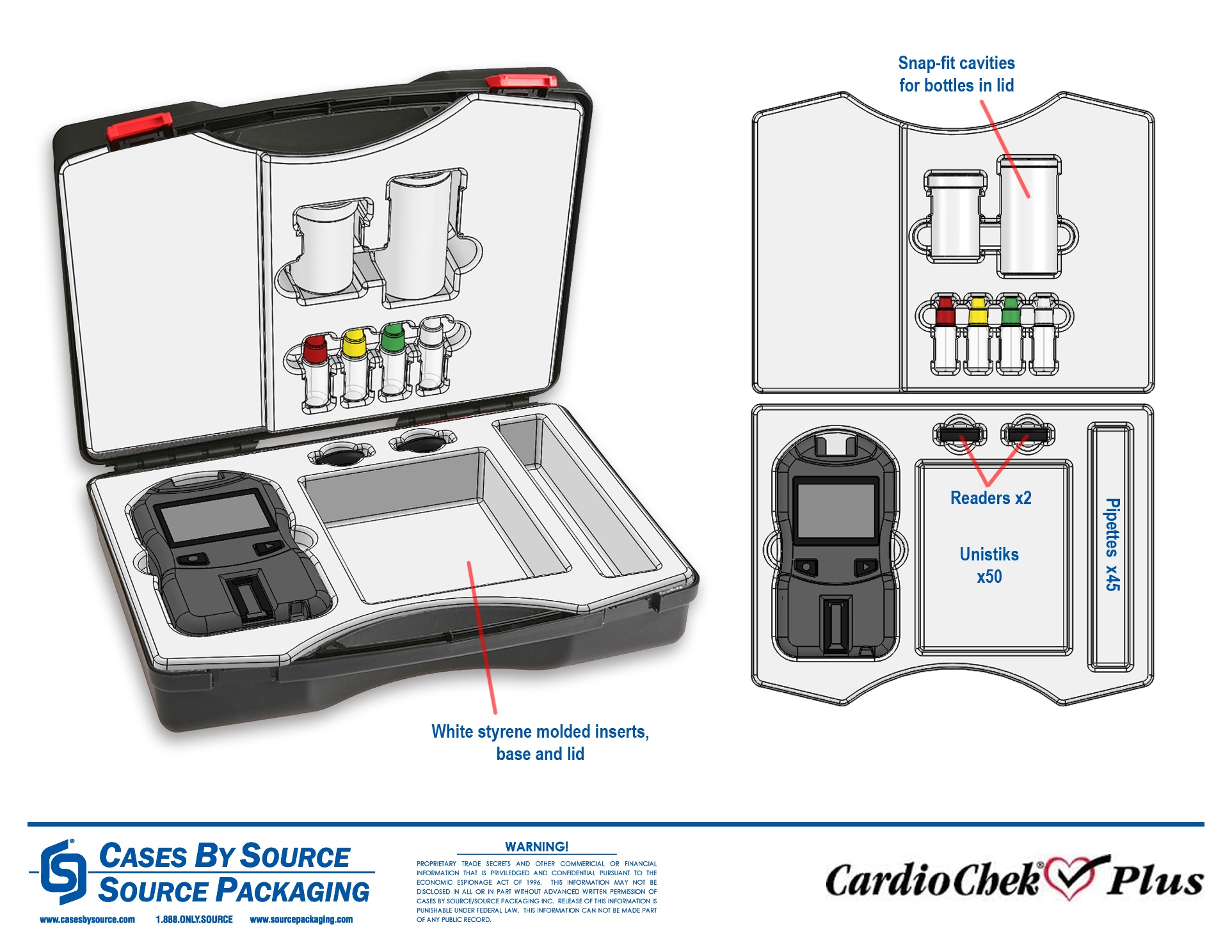 CardioChek was originally working with another case company. They referred CardioChek to us because they believed we have better design and manufacturing capabilities, like thermoforming and molding technologies, in developing the optimal case solution. To reduce tooling costs, we started with an off-the-shelf, injection-molded case.



We custom molded the interior of the case to create different compartments to fit each piece of every CardioChek system and designed the exterior to look professional and sleek to enhance CardioChek's brand. Lastly, to achieve CardioChek's goal of complete wipeability, we did not use any foam or fabric, allowing for easy at-home clean-up and making the case much lighter than their previous foam-filled boxes. Here, at Cases by Source, we thrive on challenging case projects. Are you struggling with a packaging solution for your project? Let us help you make your concept a reality. Click below to start discussing your next case project!