Produced from a variety of fabrics and built to meet the most demanding requirements, custom soft-sided carrying cases are suitable for a wide range of applications. So whether it's a matter of keeping water and dust away from products or giving extra cushioning to sensitive products, custom soft-sided carrying cases can get the job done. Let's take a look at a few examples.
1. OEM Product Cases
Custom-sewn soft-sided bags are an ideal match for OEM products. The durability of the case helps ensure that products remain safe in transit between the manufacturing table and their end destination, while the portable nature of the cases supports proper handling and product safety. While the safe arrival of OEM products fosters positive relationships with business partners, the use of unique identifiers on the case exterior helps reinforce positive equity around your brand.
In this custom case — designed to store mobile workplace technology devices — green padded dividers helped keep each of the parts organized and well-cushioned in transit. A shoulder strap once again added convenience from a mobility standpoint, while the inclusion of embroidered company emblems and white stitching added to the professional look of the custom soft-sided carrying case.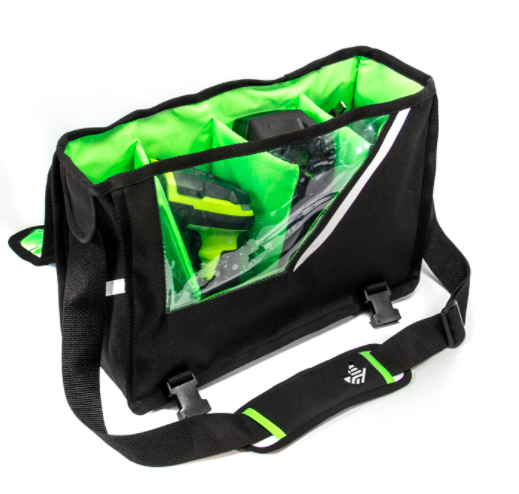 Source: Cases By Source
2. Medical Device Cases
Healthcare professionals have a lot on their plate. So when it comes to medical devices and other equipment, it's critical that these items are made easily accessible to these individuals. With their ease of storage and lightweight feel, custom soft-side carrying cases serve as an optimal choice to house procedure-oriented kits, medical implants and more. The ability to work more efficiently, with safety ensured, empowers healthcare staff to improve patient outcomes.
Here is an example of an inventory control case for medical implants. The multi-zippered design of the soft carrying case makes implant variations easily accessible, while a color-coded system on each level further streamlines accessibility. The combination of straps and handles provide multiple carrying options, adding to the overall flexibility of the solution to meet individual needs.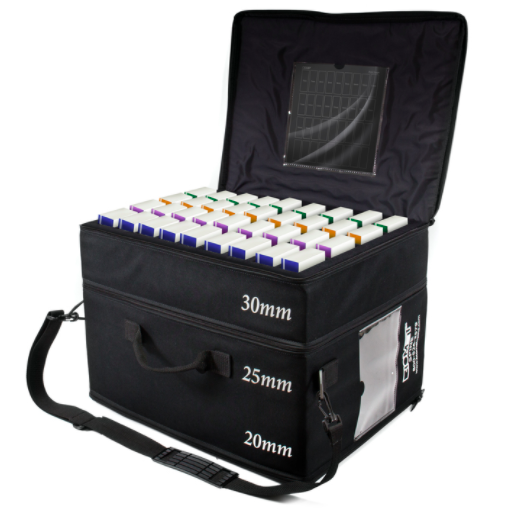 Source: Cases By Source
3. Sporting Goods
Before a fishing enthusiast spends the day out on the water, they need a way to get all their gear from point A to point B. Not only that, but once they've left the dock or shoreline, they need to be able to readily access this same gear so they can quickly get the right lure.
While making it easy to transport fishing and other types of sports gear, custom soft-sided carrying cases provide a level of organization that keeps individuals focused on the fun. In the tackle box example below, you can see how compartments are used to divide up tackle based on unique categories. That way, fishing enthusiasts can find the bait that they need, right when they need it.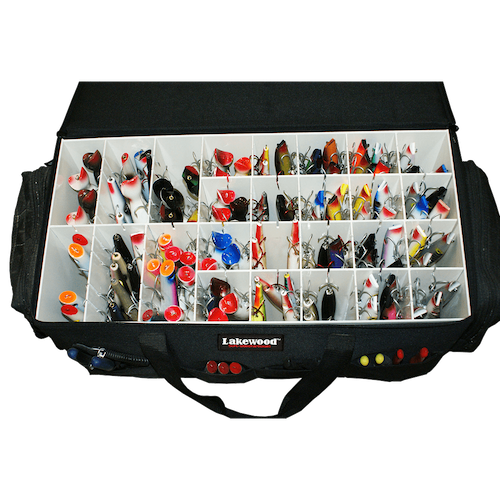 Source: Cases By Source
4. Sales Sample Cases
Whether you're presenting lighting equipment, paint chip kits or medical implants to prospects (to name a few examples), custom soft-sided carrying cases can help keep products safe and organized. While custom-fit foam interiors create a professional look inside sample cases and support sales team efforts, extensive branding opportunities — from PMS color match and embroidered or silk-screened logos to custom attachments like a shoulder strap — make custom soft-sided carrying cases an even more powerful extension of your brand.
The example below shows a custom-soft-sided case designed to display commercial roofing. The red edge trim color of the case ties in with the brand, while a shoulder strap makes the case more mobile. Meanwhile, various compartments on the soft carrying case interior and exterior make it easy for sales representatives to stay organized and access business cards, phones and more.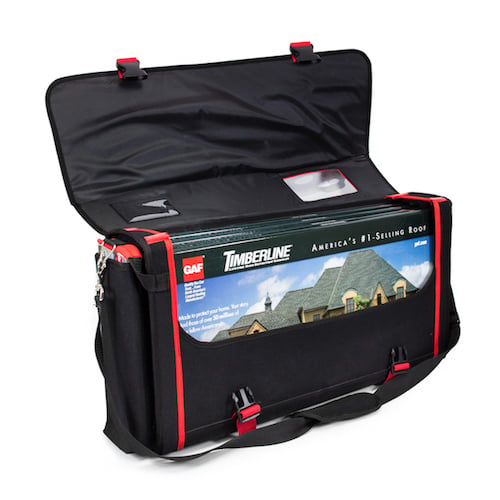 Source: Cases By Source
Wondering if a custom soft-sided carrying case is the right choice for your product(s)? Schedule a consultation with Cases By Source and we can discuss your needs in more detail to identify the optimal custom design for you.