Safety first. This has been (and remains) the guiding sentiment in medical device packaging. From ultrasound equipment to mobile CAT scans, preserving the integrity of medical devices in transit is critical to regulatory compliance and patient care — and is thus treated accordingly.
With the focus around protection, creativity has typically taken a backseat in medical device packaging design. However, more recently, medical device manufacturers are finding ways to balance the technical needs of their products with creative elements that speak to their brand and enhance the user experience.
What's Prompting the Push Toward Innovation?
Greater Competition
Competition is steep in the medical device market. In fact, statistics show that the medical device industry invests a higher percentage of their annual revenues into product innovation than the automotive, telecommunications or defense industries to stay ahead of competitors. With the growing view of packaging as part of a product — not just a means of transit — more medical device manufacturers are funneling revenues into innovative medical device packaging, too. That way, their brand gets positive recognition for its product and its presentation.
Technological Advancements
New technologies have opened up the doors to greater innovation in medical device packaging. From the integration of electronics inside packaging to the addition of brand identifiers on the outside of the packaging, there are a lot of new possibilities in medical device packaging — and industry manufacturers are taking notice. With resources in place to bring creative ideas to life, medical device manufacturers are making investments in packaging solutions that better serve the end-user and the business itself.
An Example of Innovative Medical Device Packaging
At Cases By Source, we've had the chance to work on a variety of custom case solutions for medical devices. One of these solutions was for a medical device manufacturer, who needed a case for the first ultrasound-based epidural guidance device.
While the original device case was protective and portable, the EVA case that we developed created a whole new experience for the end-user — one that blended form with function. Here are just a few examples...
The case was designed so LEDs on the medical device were visible without having to open it. With a quick assessment of the power level, physicians could easily know if a device was ready for use.
If the medical device needed to be charged, it could be done so right inside the case . This was made possible through molded ports that enabled cables to pass through — even with the zipper closed.
While fabric choices were selected to pair with the brand, a logo was also embossed on the exterior of the case. The combination created a cohesive brand story.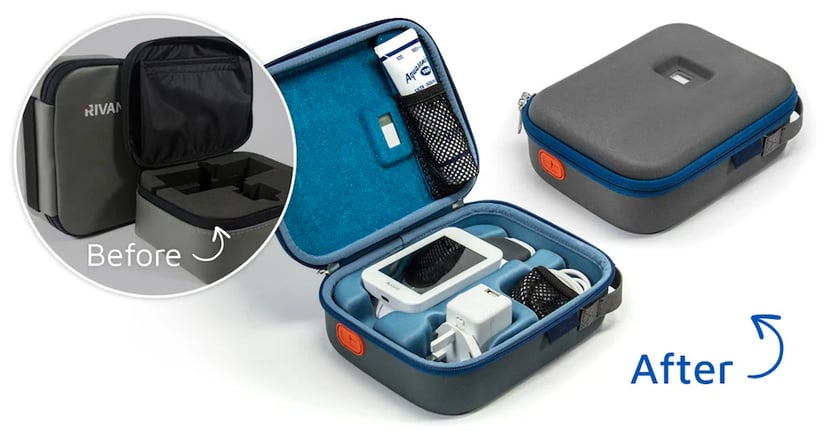 Looking to add more creative, branded elements to your medical device packaging? Schedule a consultation with Cases By Source and we'll help you develop the case of your dreams.