Musicians are back on stage. Sports teams are back on the fields and courts. Exhibitors are back on trade show floors. Audiovisual teams are back on production sets.
Across various industries, professionals are returning to the places that they often call home — and that means being back on the road. While typical travel may involve a suitcase or two, the baggage that comes with these travels is a bit more involved. In the case of a four-person band, the packing checklist might include four guitars, one keyboard, one drum set, four microphones, two amplifiers, stage lights, and the list goes on.
As valuable items are transported between stops, it's critical that they are stored in a durable case built to keep them safe. (After all, the show actually can't go on with a busted drum set.)
At Cases By Source, we're proud to offer road case solutions that serve this purpose. What's even better is that we make it easy for you to design the exact case you need in just minutes.
Introducing Road Case Designer — Our DIY Design Tool
The Road Case Designer tool is your home base for designing customized road cases. From one easy-to-use platform, you can select the unique criteria for your custom case. This includes:
The dimensions of your case to suit your equipment and your needs
The type of custom foam inside your case to cushion your valuables
Any ultra-specific hardware needs like wheels for ease of portability
The colors of your case, with the option to include branded stenciling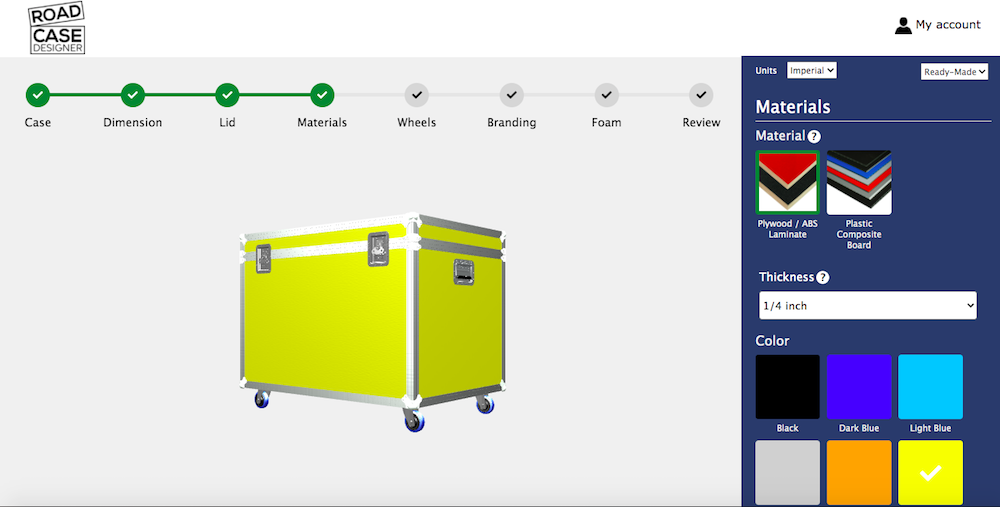 The Road Case Designer Tool in action.
As you choose the criteria for your custom road case, Road Case Designer updates in real time. With each step in the process, you can see how certain selections impact the end result — and ensure you have the exact case you envisioned before you say build.
What Happens Once the Design Is Complete?
Once you complete the check-out process, Cases By Source gets to work. Using your design as a road map to your road case and applying our 40 years of experience in custom case building, we'll construct a case that meets your exact specifications. Just a few weeks later, we'll ship the completed case to your front door — and it's ready for use!
A Solution for Individuals and Small Companies
The Road Case Designer tool was built with the idea of catering to those small companies and even individuals dubbed by other companies as too small to serve. With the ability to design and build a high-quality custom case faster, these groups are ready to hit the road in less time — with the confidence their most valuable items are protected from bumps, vibrations and more.
The best way to experience the benefits of the Road Case Designer tool is to try it out yourself. Demo your idea for a road case design, and when you're ready, add your completed design to your cart and check out!